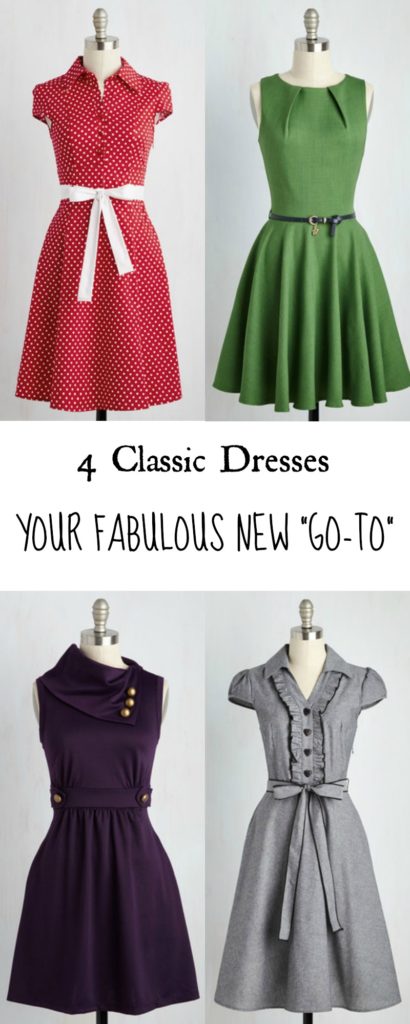 This post contains affiliate links; read more about that in the Disclosure Policy. As always, all opinions are my own.
"In my younger and more vulnerable years" I was all about the clearance $3 shirts and getting as much as I could for as little as I could. While I definitely got some great additions to my wardrobe that way, most of what I got were things that lasted for maybe a week or I couldn't even wear at all. I would realize later that the piece was completely see through or had that fabric that sticks to you with static everywhere. As I've grown, I prefer pieces that will last and am striving for a minimalist wardrobe. I don't mean in the sense that it's just neutral colors (I like wearing color too much for that). I mean that I would rather have fewer pieces of higher quality. Clothing items that are functional, comfortable and fashionable are ideal. I'm okay with being picky now, because I don't add to my wardrobe often. I was doing some online window shopping at Mod Cloth and found four classic dresses that fit the bill perfectly! All of these dresses can be worn in the warm weather or paired with a sweater when it's cool outside. They also have that "real-life" factor that makes them fabulous in everyday life. Happy Shopping!
Price: $59.99
Price: $79.99
Hepcat Soda Fountain Dress in Cherry
Price: $64.99
UPDATE: All of these dresses are 20% off through September 29th when you use…
If you decide to add one of these fabulous dresses to your wardrobe, take a picture of yourself and tag me @imperfectadventures on Instagram! I'd love to see how you're rocking that dress!