The amount of things that we are supposed to do to have a perfectly healthy lifestyle is overwhelming. Mostly because it takes so much time. As a mom, I love the passive things I can do to enhance my day, and frankly, my alertness. I truly believe that the major results come from the small, but persistent endeavors. I have been known to create a big and intricate plan, and pursue it with diligence…until other things win out. I'm slowly learning though, that it's the small, daily decisions that matter the most. When we take care of the little things, big problems arise left often. I'm speaking very generally, but I hope you get my point. I wanted to share five small and passively things I've learned to enhance my health daily.

1. Add Lemon to Your Water
I was at lunch with a good friend of mine one day and she started to tell me about the benefits and importance of having warm lemon water in the morning. She has her degree in nutrition and is a very natural person; so I was all ears. She went on to explain how having lemon water in the morning re-sets your metabolism and balances your PH levels. I started just keeping my lemon water going all day, and I go through one lemon a day. You can read more about her thoughts on the importance of lemon water here.
2. Stretch
This one is probably the hardest for me. I can get bored just sitting and stretching! However, I can really tell when I haven't stretched. Over a few days my muscles will get tighter. This one is maintenance, the longer you overlook it, the worse it will get. This is probably the most passive one on this list! My daughter is 15 months old, and I spend a lot of time just sitting in her room with her. It's a good opportunity to get some stretches in and she often finds it hilarious. Yep, Mommy does look pretty funny trying to do the splits.
3. Rest Your Eyes
Often just taking a minute to close my eyes, especially after looking at a screen for a while, helps me re-set. It's almost like a little escape. You can close your eyes and momentarily leave the world around you. You can take a moment to be purposeful with your thoughts and form a vision for the rest of the day.
4. Oil Pulling
Confession: When I first started oil pulling, I HATED it! It was gross and made me gag! But I believe that sometimes you have to suck it up and work past it. It sounds silly, it's just putting a tablespoon of coconut oil in your mouth and swishing it around for 15-20 minutes. I had to work my way up, and embarrassingly, it took me maybe 3 weeks to work up to the full 20 minutes. I have never heard of anyone else having trouble with it, but if you do, you're not alone! Oil pulling is really easy to do when my daughter is down for her nap and I'm just going to be sitting in front of the computer or cleaning. It cleans between my teeth, strengthens my gums and even whitens my teeth. I've heard some people even add Young Living's orange essential oil to the coconut, but I've never tried it. If you decide to try that, let me know how it turns out!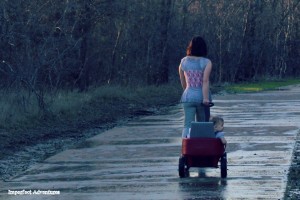 5. Go For a Walk
I "plan" on doing a purposeful and intense workout 6 days a week. I don't remember the last time I worked out 6 days in a week. It's alright, sometimes life happens and we can't get to everything. This is why I believe in having a plan B. I talk more about this in 10 Tips to Prepare for Fitness Success. My plan B is to get the stroller and go for a walk. We take the long route to the playground and enjoy the fresh air.
It's hard to prioritize personal health when life has so many things going on. Health in itself is one of those "small" things that affects the other things. When you take care of yourself, you have more energy for your children, usually get to benefit from a better mood, and are more efficient. So I have a challenge for you, pick one small and passive thing to add to your day, to take care of YOU! Leave a comment and let me know what you decide to do. I'd love to hear from you!