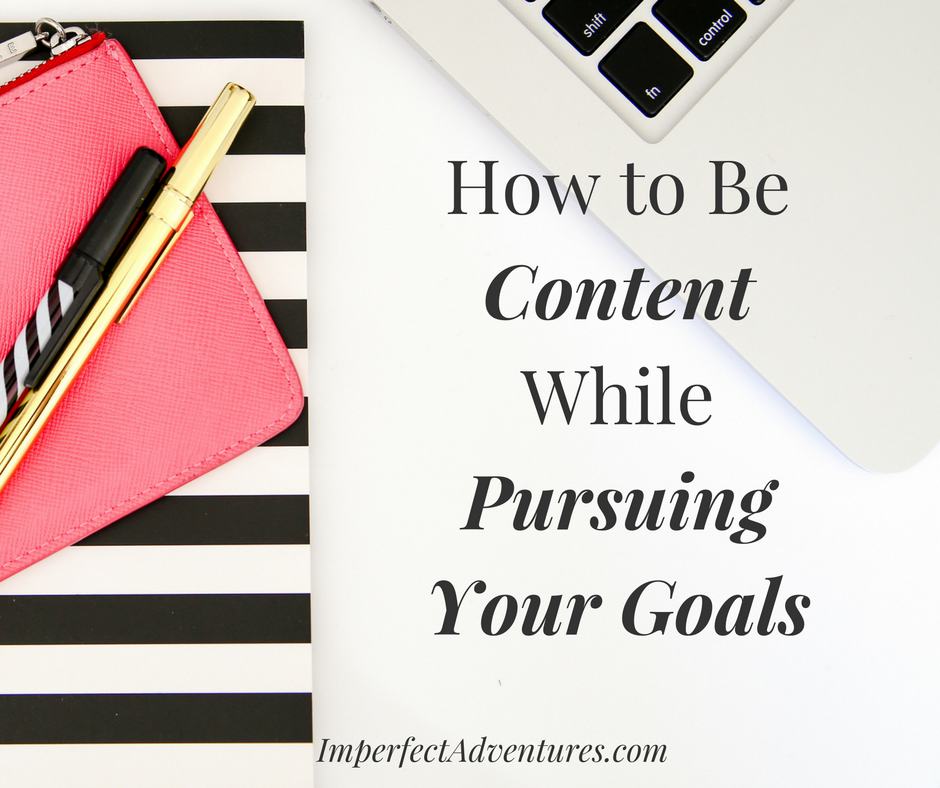 How do you know when you've "arrived?" We are always working towards new goals; especially at this time of year. There seems to be an endless list of goals we can pursue to better ourselves, but has working towards a goal kept you from being content in the present?
When goals aren't kept in check, when they consume us, these good and healthy goals, become our undoing. We can't enjoy where we are because we are too consumed with where we want to be. I've personally struggled I struggle with keeping a balance between contentment and working hard towards goals. When we are working towards goals, we are looking forward. It's in our goal's best interest to push forward, to be constantly moving. It's all great, until one day you realize you missed just being present and content in the moment.
To clarify, I'm absolutely FOR having goals. Write them down, create accountability, do all the goal-oriented things. But like most things in life, there is an equilibrium to be found. I believe that people benefit from being creative and working towards something. However, we are also called to be content in every season of life; even if it's a waiting season.
It might be just me, but I've never stumbled upon contentment. I have to purpose to be content. Here are some things I've learned through this journey of balancing goals and contentment; I hope you find them helpful!
Make a Choice
"I am determined to be cheerful and happy in whatever situation I may find myself. For I have learned that the greater part of our misery or unhappiness is determined not by our circumstance but by our disposition." – Martha Washington
The first thing to do is take responsibility for the choice of our disposition. We are the only ones who can choose whether or not we will pursue contentment. Contentment is not determined by a number in the bank or a car in the driveway; it's on us. Taking responsibility obviously isn't the most fun thing. But the sooner we embrace the reality that a large part of contentment is in the choice of our disposition, the sooner we can find contentment.
"…I have learned to be content whatever the circumstances." Philippians 4:11
Paul writes in Philippians that he has "learned" to be content. This is a relief; I didn't miss out on being born with the contentment gene! It's a learned practice, a muscle to be exercised. The more we practice, the more naturally it comes.
It's not always east to be content. There are legitimately rough patches in life, but contentment doesn't come from an idealistic environment. Rather, it is knowing that "I am as God would have me." Each season of our lives is used to mold and shape us; even the tough ones.
Gratitude
"Gratitude unlocks the fullness of life. It turns what we have into enough, and more. It turns denial into acceptance, chaos to order, confusion to clarity. It can turn a meal into a feast, a house into a home, a stranger into a friend." – Melody Beattie

So, if a large part of contentment is choice, can we just flip a switch and find contentment? I can't, but if you can, that's awesome! One of the practical choices we can make is to focus on what we can be grateful for. What are some things we take for granted? The list of things I take for granted is much longer then I care to admit, but that can be a blessing in disguise! Think of it as having a large arsenal of potential gratitude!
Gratitude is a practice in mental self-control. When my mental grumbling and complaining start, it's an opportunity to exercise the self-control muscle; choosing to re-direct my thoughts to gratitude.
While we are working hard and pursuing our goals, let's practice gratitude in the journey. We can be grateful for the opportunity and ability to try, the people supporting us and the progress we make. We can even be grateful for our setbacks, because arguably we learn more from our setbacks then our accomplishment.
Don't Compare
"So in everything, do to others what you would have them do to you…" Matthew 7:12
Comparison has two results. First possible result: we come up better, and in turn, think of ourselves as better than the person we are comparing ourselves to. This is bad. Obviously, because now we are (in our own heads) higher and mightier than this other person. Also, because we are losing our ability to relate with them, and even empathize with them. If we think we are better than someone, it's easy to lose grace when viewing them. One of the resulting thoughts (which I am completely guilty of) is, "That could never happen to me." This thought can have other context, but personally, it's always been born of "thinking of myself higher than I ought." (Reference to Romans 12:3).
The second possible result is that the other person comes up better. Now, we most likely, resent them. We can no longer be happy for their accomplishments, provisions and progress. We make excuses in our head for why so-and-so got this and we didn't. In my head, it usually isn't because they worked harder, but because of some ridiculous streak of luck they had, and hey, why can't I have that luck?! On occasion, I have personally lost the ability to be happy for friends and family because of the green-eyed monster of jealousy, and it takes focus and prayer to come back from that. It's an area in which the Lord is constantly helping me.
So, if we are pursuing a goal, it is in our (and everyone else's) best interest to not compare our goal and progress to someone else's.
Avoid Temptation
As your work to choose contentment, focus on gratitude, and stop comparing; an important tool is to avoid temptation. The temptation to be discontent, un-grateful and compare ourselves is saturated in our daily lives. Obviously we can't avoid everything that feeds those things, but let's be mindful of the things we can control.
Be aware of the person in your life who seems to encourage grumbling and complaining. If you're aware that they aren't helping your effort to be more content, you can change the conversation when it turns to grumbling and complaining.
Notice the things that consistently make you comparative or even resentful. It's an opportunity to exam your heart in regards to those things. When we actively work to clear our discontentment, we are actually more free to gracefully pursue our goals. A large part of this is knowing your own heart and having discernment.
Prayer
"Do not be anxious about anything, but in every situation, by prayer and petition, with thanksgiving, present your requests to God. And the peace of God, which transcends all understanding, will guard your hearts and your minds in Christ Jesus." Philippians 4:6-7
I'm a Christian, so I believe that contentment ultimately comes from Christ. The best thing we can do to balance contentment while pursuing our goals is to come before the Lord in prayer. To pray about our goals, giving them to the Lord, while asking for contentment. To ask the Lord to align the desires of our hearts with His will and give us wisdom and discernment.
Prayer isn't always meant to be an isolated activity. You can ask a close friend or family member to be praying for you as your pursue your goals. It's also a wonderful opportunity to ask how you can be praying for their goals.
I would love to connect with you and be praying for your goals. You can e-mail me here. I'd love to hear from you!