The Search
Have you ever looked around you and wondered, "Where did all this stuff come from?!" If you've ever moved, you've probably experienced this phenomenon. If you're like us, there comes a point when you feel like your stuff owns you, rather than the other way around. I find myself spending more time maintaining STUFF then doing things that are higher on my priority list (family time, exercise, quality rest exc…).
A few months ago I started looking into minimalism. I'm not an expert and I don't claim to be a minimalist. However, I do like the concept of minimizing our material possessions for things that matter more. I am also attracted to the calming atmosphere of less clutter, (and hey, I won't turn down less stuff to put away and clean).
My husband and I were talking recently about how all of our time seems to go to the "little things." Our quiet time, family time, health, and personal time are often put on the back burner for all of the "little things" that pile up. He phrased it as, "The things that are slipping through the cracks are the things that should be our priority." Obviously, life happens and that's sometimes how it is, but we don't want it to be our normal.
Confession
I started thinking about doing this post a month ago. Can I be honest with you? I was a little prideful about it. I thought, "This won't be too hard. I'm not a hoarder, it will take 15 minutes." HAHAHAHA. It took more than 15 minutes! This week, we started with our clothes. OH MY GOODNESS! I'm embarrassed at how many clothes we had! Apparently I hadn't gotten rid of clothes since I was 16-years-old! There were clothes in there that I had bought 3 years ago and STILL never worn. Clothes that will NEVER fit my post-baby body. Clothes that I can't wear until I take them to the tailor (I'm 5 ft. tall and no one makes clothes in my size). It was a bad situation. In the spirit of authenticity, I'll tell you the damage. I filled 7 trader joe's bags with clothes, shoes, hats and accessories. My husband filled 2…I'll leave that there. We still have PLENTY of clothes. Let me tell you what worked for us.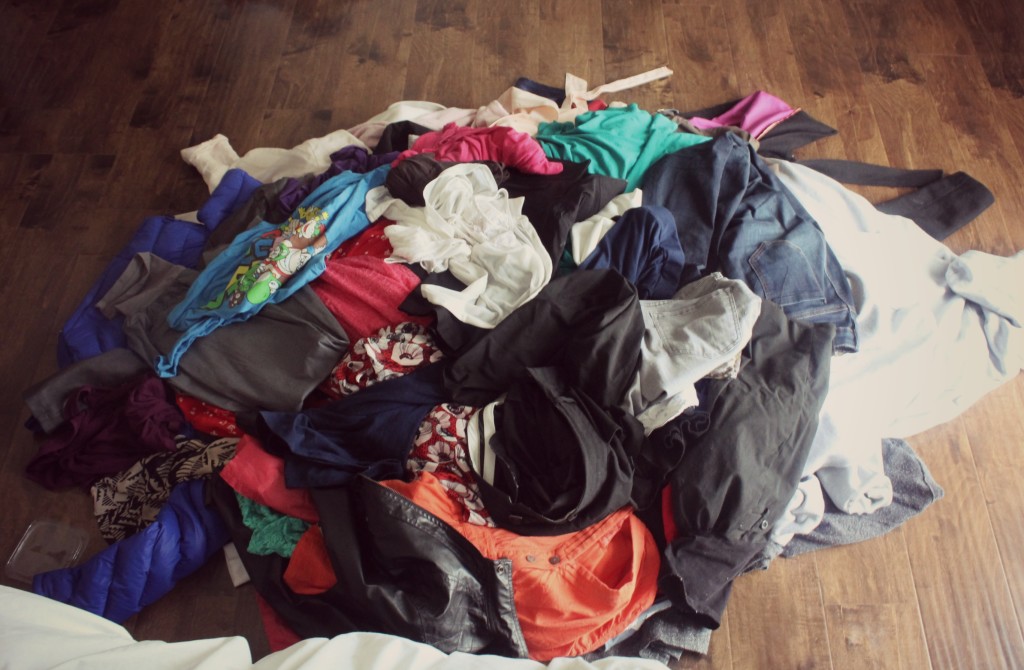 Tips
Know Your Style – This is when your style board (be it public or secret) on pinterest is going to come in handy. Do you notice an overall look in there? Keep this style in mind when you're going through your clothes. Having a cohesive style makes me feel put together, a little more defined and allows more outfit combinations.
Know Your Colors – Again, pinterest to the rescue! Take a little time to research what colors look best on you. You don't have to strictly abide by these colors, but I find it helpful to know.
Does It Actually Fit – I think I have always owned a pair of jeans that I anticipated wearing when I was my "ideal" size. I never wore those jeans. All they ever did was make me feel bad about choosing the jeans next to them that were a different size. I love setting goals, but these goals are no longer reflected in the size of my clothes. I have fitness goals that naturally result in a smaller size, but I prefer to think of that as a symptom of a goal reached, rather than the goal itself. My personal philosophy is that if I end up losing weight as a side effect of eating well and working out, then it will be fun to buy new clothes that fit. As of now, I don't need those clothes in my closet. Again, that's my personal prerogative; find what works for you!
Can I Function In This – This is for all the moms out there! Since becoming a Mom, I no longer have any patience for those shirts that I can't bend over in or dresses that I can't twirl in. Functionality is now a high priority in my wardrobe. I do have some pieces that aren't ideal for "mommy wear," but they are few and far between.
Is This An Item I Actually Wear – There was this one red top that I put on multiple times, but I never left the house in it. I always ended up changing out of it for something else. I can't tell you why, but it just never made it out of the house. The red shirt, for all it's good intentions, is no longer with me. Whatever your "almost" item is, do you want it taking up space in your closet?
Have a Plan – For every 10 minutes of planning, you save an hour of work. Begin with the end in mind and know what you're driving for. I made a plan for my wardrobe cleanse and what I wanted my wardrobe to look like at the end. I didn't stick exactly to that plan, but I'm really happy with where I ended up. It also gave both my husband and I some insight into some holes in our wardrobe. We both have lists now. So, if we end up shopping, we know what would actually be useful to our wardrobes.
Resource – One of my favorite things about blogging is all the incredibly inspiring people I get to meet. One of these people is Kelsey over at The Home Loving Wife. If you've never been to her site before, you HAVE to check it out; she's pretty incredible. Kelsey wrote a post about capsule wardrobes that inspired my planning process and I used Kelsey's worksheet to make a plan. I highly recommend reading her post and using that worksheet.
We have 9 Trader Joe's bags in my car right now, filled with clothes. We will take them to be donated. Our closet is now a pleasant space that encourages lots of outfit options. We have a specific list of some items that would be nice to get, should the occasion arise. I feel like I have more of a "style" now. It's easier to get dressed in a hurry (which is a necessity as a Mom) and there's a better chance my outfit will match. I enjoyed doing this with my husband and reminiscing as we looked through old clothes. It was time consuming and a little emotional (I'm more sentimental then I thought), but well worth it!
Join our search for simple! Subscribe and follow me on social media! I'd love to see your closet purge. Post your closet purge on instagram, tag me (imperfectadventures) and use the hashtag #searchingforsimple for a chance to be featured. Happy simplifying!