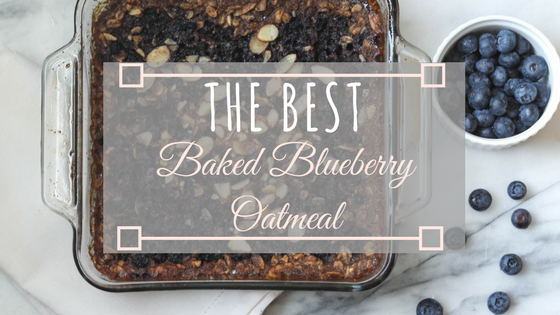 January is over and while I ate pretty healthy in January, my trips to the grocery store were consistently more expensive then I estimated. I also spent WAY more time doing dishes for EVERY meal that I would've liked. I did not meal prep the first few weeks of 2018 like I should have. I was trying to be carefree about it…but I've confirmed my belief that discipline brings freedom. BUT, it's hard to pursue health, finance and time management goals at the same time!
So…in an effort to balance these things…drum roll, please… I give you baked blueberry oatmeal!
Good for your health; it's gluten-free, sweetened with a bit of raw syrup, and has a good amount of fiber.
Good for you wallet; I think I spent about $10 and I have the stuff to make this several times over!
Good for your time management; because it's a make-ahead breakfast!!! I'm crazy excited about make ahead breakfast! I get up at 4:00(ish) these days to teach ESL online, so I'm all about the make-ahead breakfasts! I might have also given some to my toddler as her afternoon snack.
Fair warning though; I made this with the intention of it lasting my family of four for at least 3 days of breakfasts… It lasted about 36 hours. Portion control…that's the next thing I should be thinking about, haha.
Honestly, though, this doesn't have to be BLUEBERRY baked oatmeal. I just had frozen blueberries in my freezer. You can add apples and cinnamon, or even peaches, really whatever you want.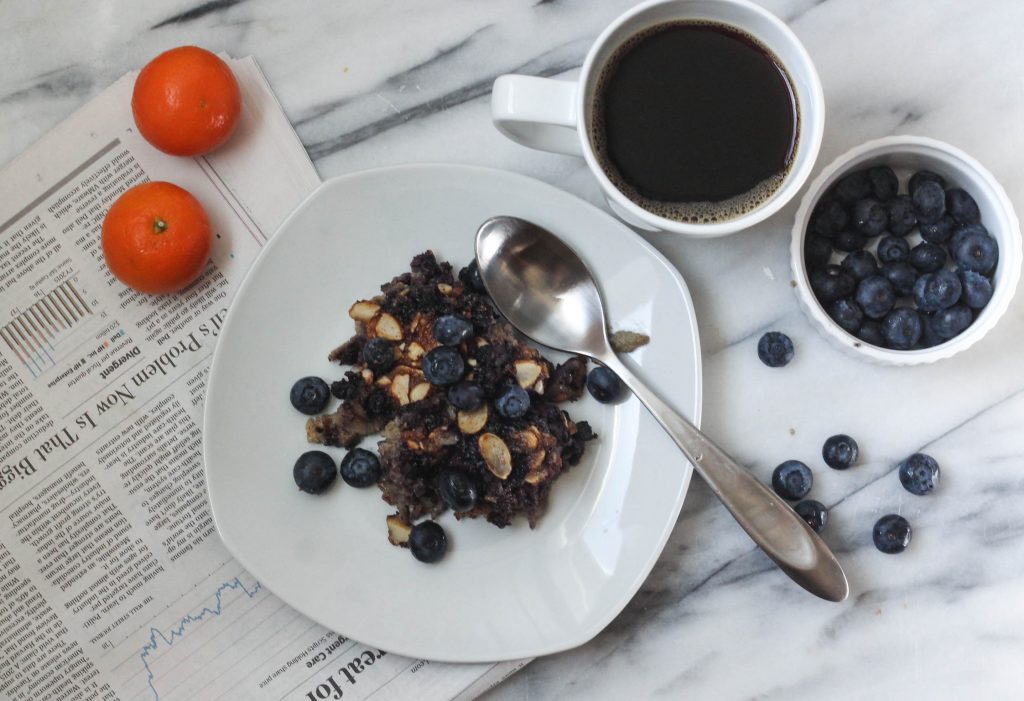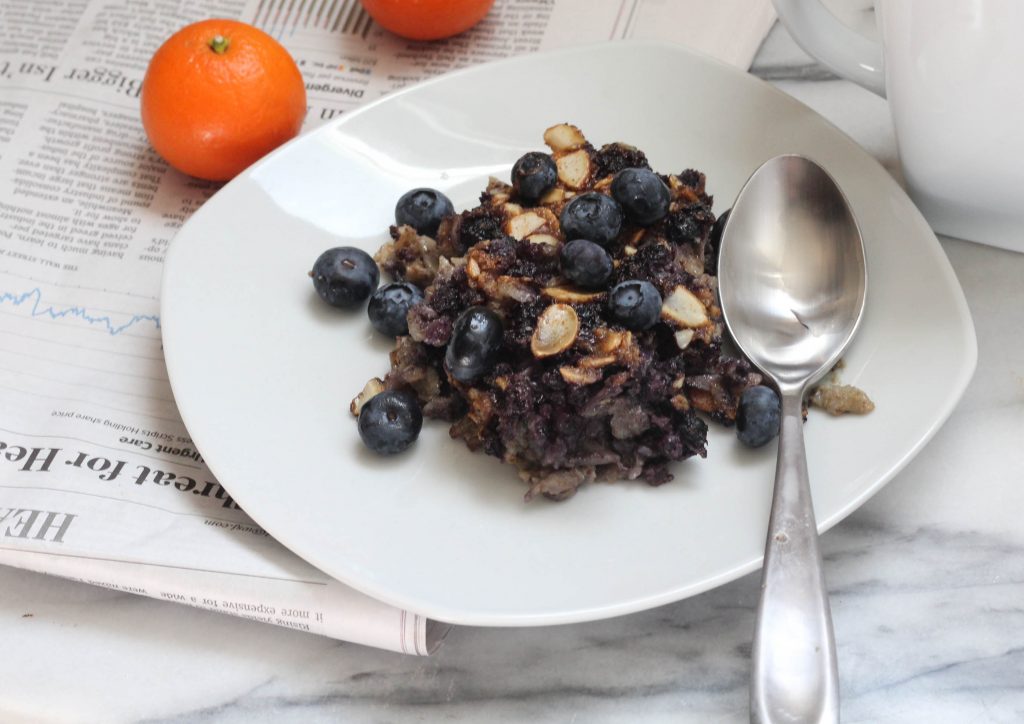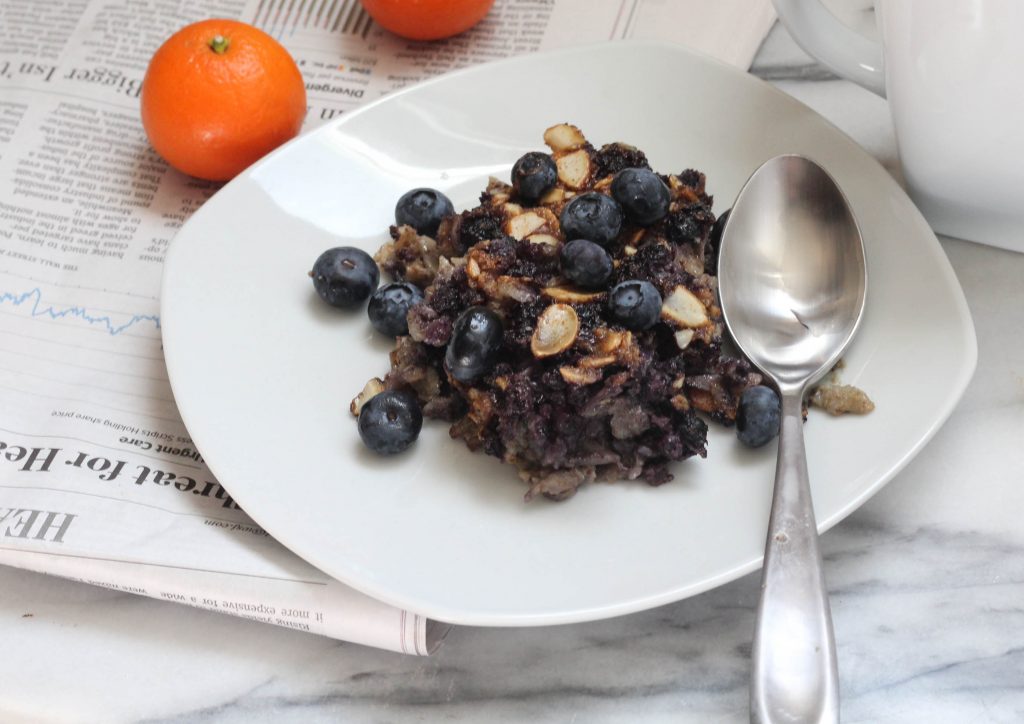 Baked Blueberry Oatmeal
2018-02-06 02:02:25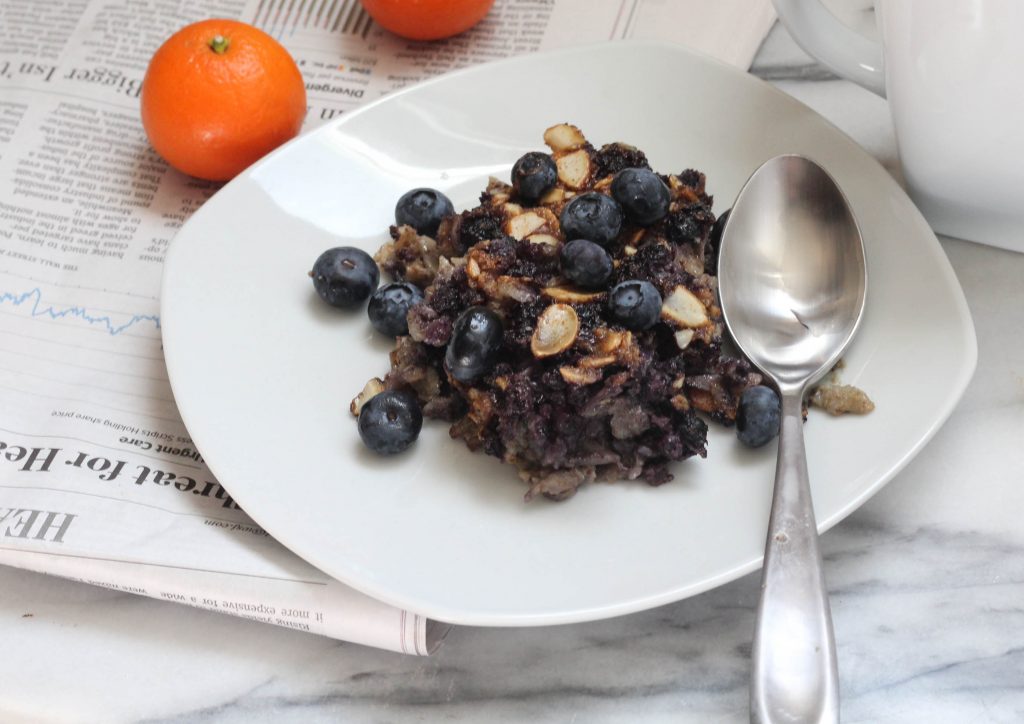 Serves 6
Ingredients
1 Tbsp Coconut oil (for greasing)
Dry Ingredients
3/4 c. Gluten Free Rolled Oats (I got mine from Trader Joe's)
2 Tbsp. Ground Flax Meal
1/4 c. Sliced Almonds
1 tsp. Baking Powder
1 tsp. Cinnamon
1/4 tsp. Nutmeg
Pinch of Salt
Wet Ingredients
2 c. Unsweetened Almond Milk
1/2 tsp. Vanilla
1/4 tsp. Almond Extract
1/3 c. Pure Syrup
2 Tbsp Melted Ghee or Grass-fed Butter
1 Egg
1 c. blueberries (I used frozen)
Toppings (optional)
1 Tbsp Coconut Sugar
1 Tbsp Sliced Almonds
Extra Blueberries
Instructions
Pre-heat the oven to 350*
Grease an 8x8 baking dish with the coconut oil
In a large bowl, mix the dry ingredients
In a medium bowl, mix the wet ingredients
Slowly mix the wet ingredients in with the dry ingredients
Stir in the blueberries
Pour the mixture in the baking dish
Sprinkle on the toppings (optional...but recommended)
Bake for 50 min
Let cool for 5-10 minutes
Top with some warm syrup, a pat of grass-fed butter and fresh blueberries
Notes
I really like to re-heat a serving of this, put it in a bowl, and drizzle on a little almond milk.
Grace & Granola https://graceandgranola.com/