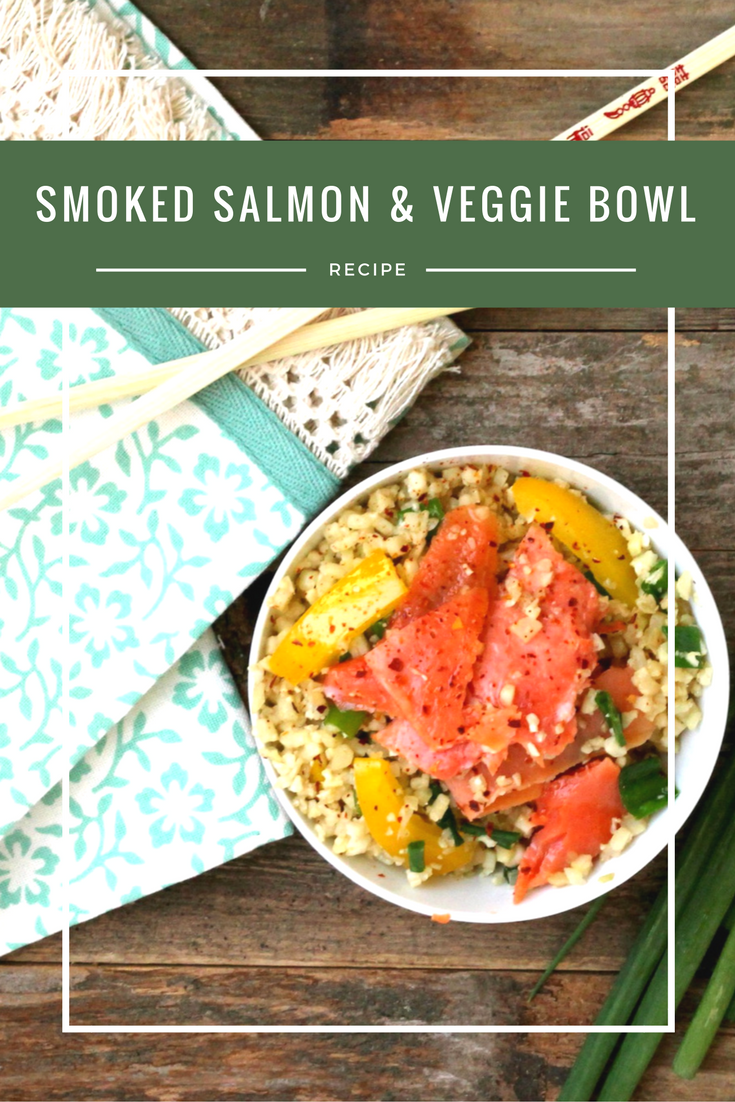 It doesn't take much to get me excited. I have been thrilled over buying fruit on sale or finding that perfect pen that rolls smoothly (in my opinion that's a G2, but that's a subject for another day). About 3 months ago, I was SO excited to discover Trader Joe's "pre-riced" cauliflower! If you've ever "riced" cauliflower, you know what a big deal this is. I have left the mess of a thanksgiving dinner, trying to rice cauliflower! I kid you not, it was a near scarring experience.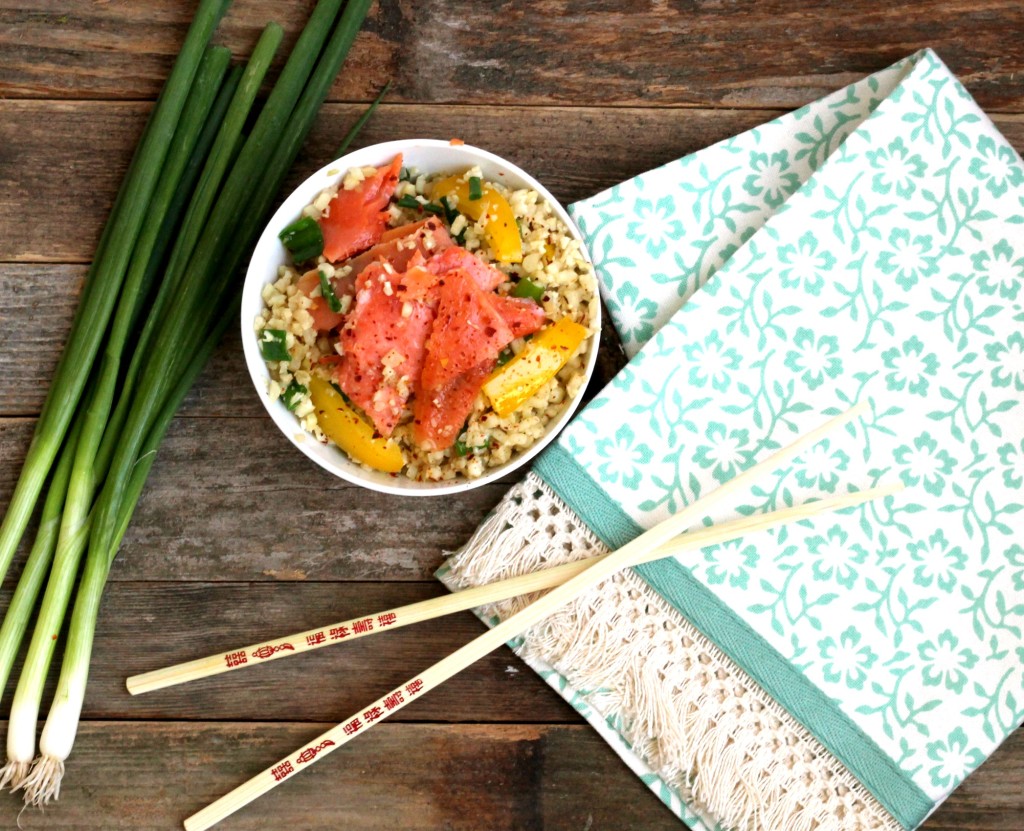 Once I started regularly buying riced cauliflower, I had to find ways to use it, other than pizza crust. Over a couple of months of doing last-minute, what's left in the fridge stir-frys, I found a combination that we kind of love! It's refreshing, slightly sweet, and (not to toot my own horn) delicious! This is my go-to meal for the days that I do NOT want to cook, but I want to keep my good intentions for the week on track. This recipe keeps me from running for take-out because I don't want to cook, but saves me from the, "well, there's always next week" moment.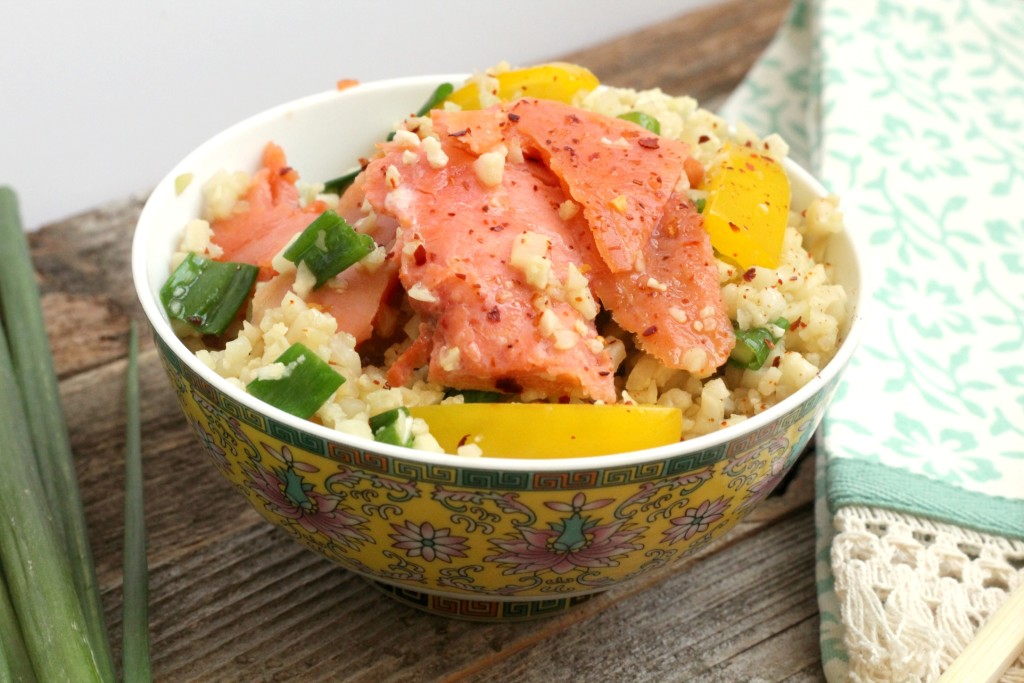 This is a real-life recipe. Meaning you should feel free to play with your own combinations, or whatever you have left in your fridge. Make it your own and let me know what variations you come up with! We ate this again tonight, and it made me that much more excited to share it with you!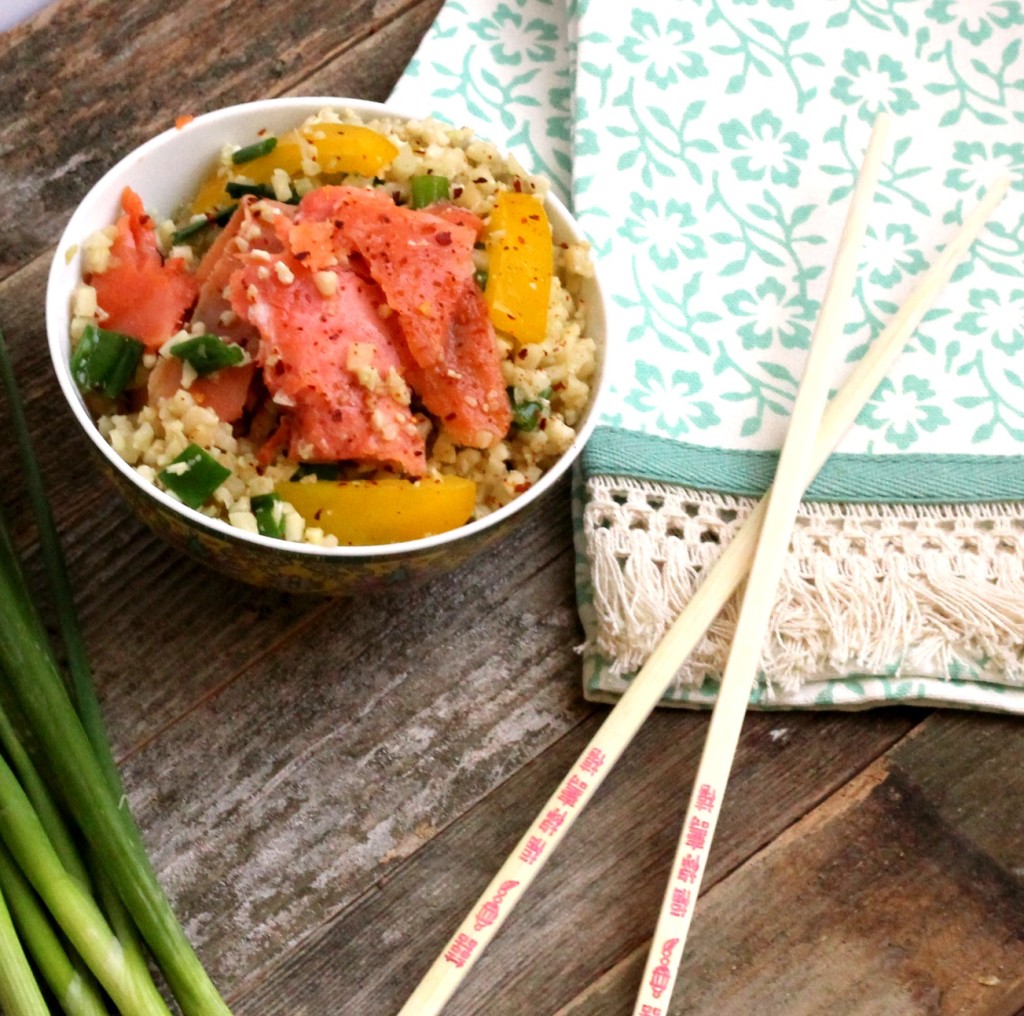 Asian Smoked Salmon and Veggies
2016-04-08 03:38:21
Serves 2
A quick and healthy dish. This is a great dinner for the warmer months and offers a delicious way to get all those great veggies.
For the Sauce
4 Tbsp Coconut Aminos
1/4 tsp Ground Ginger
1 tsp raw honey
dash of salt
Other
4 oz. smoked salmon, cut into the strips
3 1/2 cups cauli-rice
1 diced bell pepper
4 diced green onions
2 Tbsp Olive Oil
Red Pepper Flakes (Optional)
Instructions
Stir together the sauce ingredients in a small bowl. Set aside
In a large skillet, heat the Olive Oil at medium-high heat
Add the Cauli-Rice for 1 min, stirring occasionally
Add the sauce to the skillet, stirring occasionally (for 1-2 minutes)
Add the bell pepper and green onions, stir occasionally, cook for 1-2 minutes
Lay the smoked salmon on top of the stir fry, do not stir.
After a minute, flip over only the salmon, do not stir. Let cook until the salmon is warm to the touch. Do not overcook.
Sprinkle with red pepper flakes to taste (optional)
Serve Immediately
Bon Apetite!
Notes
Play with this recipe and add the vegetables you like! I'd love to hear about your variations.
Grace & Granola https://graceandgranola.com/