Inspiration
A few months ago my beautiful, nutritionist friend from Eat.Drink.Glorify introduced me to the purest form of wheat that exists, einkorn. We have been really enjoying einkorn at home and I wanted to make some chocolate chip cookies with them. I know, this blog post isn't for cookies. They didn't quite work out, haha. We try (TRY being the key word) to eat clean, so I wanted to make up a recipe using unsweetened applesauce instead of butter and raw honey instead of sugar. The dry and wet ingredients got severely unbalanced and the results were odd looking burnt glops of dough. I spent a month experimenting with this recipe! At one point, in an unbecoming fit, I declared it a pointless cause and dumped the dough in a cake pan to just get it over with! About 17 minutes later, I took the cake pan out and examined my lost cause. It didn't look so bad. It actually looked kind of appetizing. I let it cool and tried it out. It wasn't half bad! Eureka! Forget the cookies, I'm making a cookie cake! I trialed the cookie cake a couple of times until, not to toot my own horn, it was delicious!
Today though, I finally found my final recipe! I won't even lie, it was delicious! In the name of authenticity and commodity, I'll tell you an embarrassing truth. My husband and I ate half of it within a few hours! I'm pretty sure it will be gone by tomorrow afternoon. Sadly, we have no one to blame but ourselves. I'm a little embarrassed, but the tastiness of the cake supersedes any embarrassment.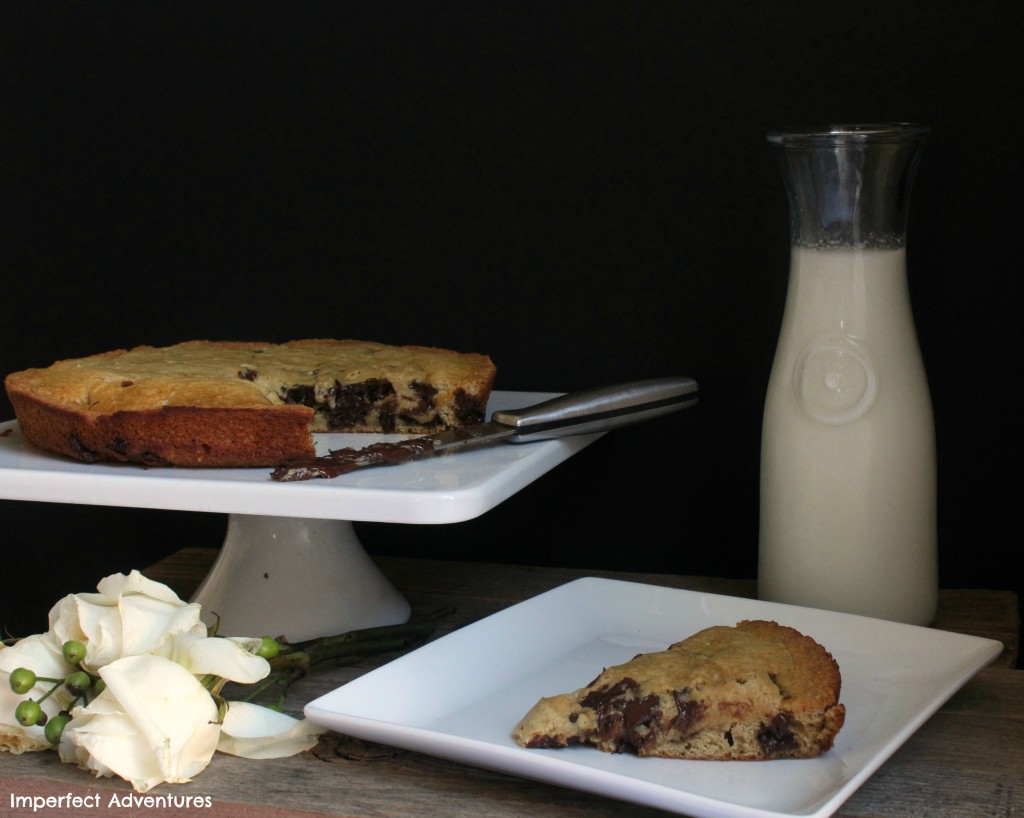 About Einkorn
Einkorn is an ancient grain and the purest form of wheat on the planet. The actual stalk looks different than commercial wheat because it's never been hybridized. It is a diploid, meaning that it only has two sets of chromosomes, making the grain easily digestible. Many people with gluten intolerance have been able to digest einkorn without repercussions (this does not apply to people with Celiac's). I buy Jovial's einkorn wheat. Their einkorn is grown and packaged on their land in Tuscany, Italy. I'd like to be clear that I'm not an affiliate with Jovial and don't receive any profit for suggesting them. I just wanted to share something that has been helpful and enjoyable for my family. If you would like to learn more about einkorn, check out this post from The Healthy Home Economist!
Thank you so much for checking out this recipe! This one took a lot of time and emotions, and didn't go exactly as I originally intended (hence cookie cake). It was a sweet reminder though that sometimes when our plans don't quite as we intended, and we throw in the towel, that's when God provides a previously unseen opportunity. 🙂
Nature's Cookie Cake
2016-02-27 20:39:41
Serves 6
A delicious and surprisingly refreshing chocolate chip cookie cake made with Einkorn flour and sweetened with raw honey.
Ingredients
1 1/4 cups Einkorn Flour
1 tsp. baking soda
1/2 tsp. salt
1/2 cup. unsweetened applesauce
1/2 cup raw honey
1 large egg
1 tsp vanilla extract
1 cup of chocolate chips (I use Enjoy Life's Chocolate Chunks)
Instructions
Pre-heat the oven to 350*
Line a round, 9 inch pan with parchment paper
In a medium bowl, sift together the flour, baking soda and salt. Set aside
In a large bowl, whisk together the applesauce and raw honey
Mix the egg and vanilla extract into the large bowl
Gently fold the dry ingredients into the large bowl
Add the chocolate chips
Pour the batter into the cake pan
Bake the cake for 15-20 minutes (this depends on your oven)
Let the cake cool for 10-15 minutes
Enjoy!
Grace & Granola https://graceandgranola.com/