My husband and I had the pleasure of spending our honeymoon in Croatia, on the Adriatic coast. It was absolutely gorgeous, and my first real experience in a foreign culture. The air was crisp, the water clear, and everything seemed wonderfully raw. I suppose it's possible that I've exaggerated all of this in memory, but I doubt it.
Before this trip, I was inclined to turn my nose up at vegetables. At their best, they were a necessary evil. Then, in a little café in old town, I found THE salad. This salad, made me fall in love with fresh vegetables! It was simple, and relied on the crisp, fresh flavor that God bestowed upon each ingredient. Drizzled with a little olive oil and vinegar, this salad changed my perspective on food forever. I know, that's a powerful salad! That salad began a lifelong passion for clean and fresh food; not for the sake of a restrictive diet, but because it broadens an eating experience! That trip and experiencing that life changing salad, inspired this Mediterranean Lamb Slider Salad recipe.
About the Mediterranean Diet
For the last couple of months, I have been fascinated by the Mediterranean diet. This lifestyle of eating is derived from the Mediterranean regions in Europe, including France, Greece, Italy and Spain. The diet consists primarily of fruits, vegetables, and grains, what I will refer to as the "first tier." The second tier, or things to be eaten maybe 3-5 times a week, are fish and dairy products. The third tier, things to be had maybe weekly or bi-weekly, are meat and sweets.
After researching and experimenting with different diets such as paleo, gluten-free, dairy-free, and even vegan, this is one that I think is sustainable for my family. It also promotes seasonal eating which is budget-friendly, delicious and provides a natural variation in our diets.
I love simple dishes that allow natural flavors to shine. This Mediterranean salad takes advantage of the natural flavor bursting in seasonal vegetables. It is also quick and easy to make, about 15-20 minutes. I made it for lunch this past week. It made a weekday lunch feel like a special experience!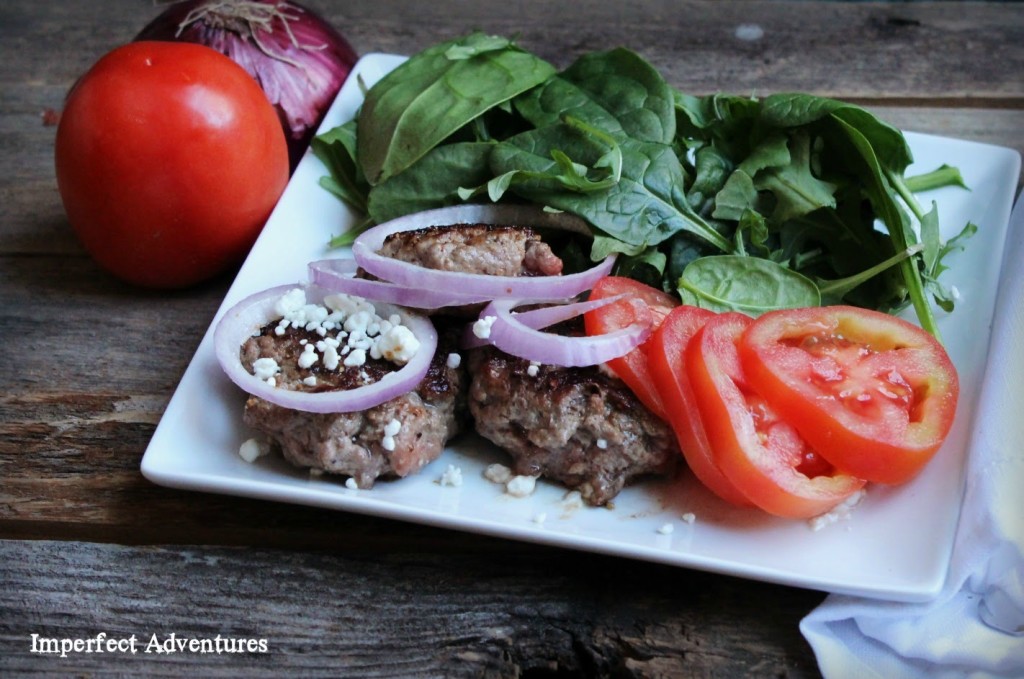 If you are looking to experiment with the Mediterranean diet, or just want a fresh and satisfying meal, I would highly recommend this recipe! You can find a print friendly version of the recipe below!
Mediterranean Lamb Slider Salad
2016-02-12 16:31:14
Serves 2
Ingredients
4 cups of greens
2 tomatos
1 red onion
1 lb. ground lamb
3 tablespoons crumbled goat cheese (optional)
Olive Oil
Balsamic Vinegar
All Seasons Salt
Rainbow Peppercorns (can substitute black peppercorns)
Instructions
Wash the greens, tomato, and red onion and set aside
Form patties with the ground lamb
Season the patties to taste with all season salt and rainbow peppercorns
Place the patties on the griddle until fully cooked (about 10 minutes), flipping at 5 min
While the patties are cooking, slice the tomatoes and red onion.
Grill the red onion for two minutes (optional)
Assemble the greens, tomatoes, onion and patties on a plate
Drizzle with olive and balsamic vinegar
Add a dash of pepper
Sprinkle the crumbled goat cheese (optional)
Grace & Granola https://graceandgranola.com/