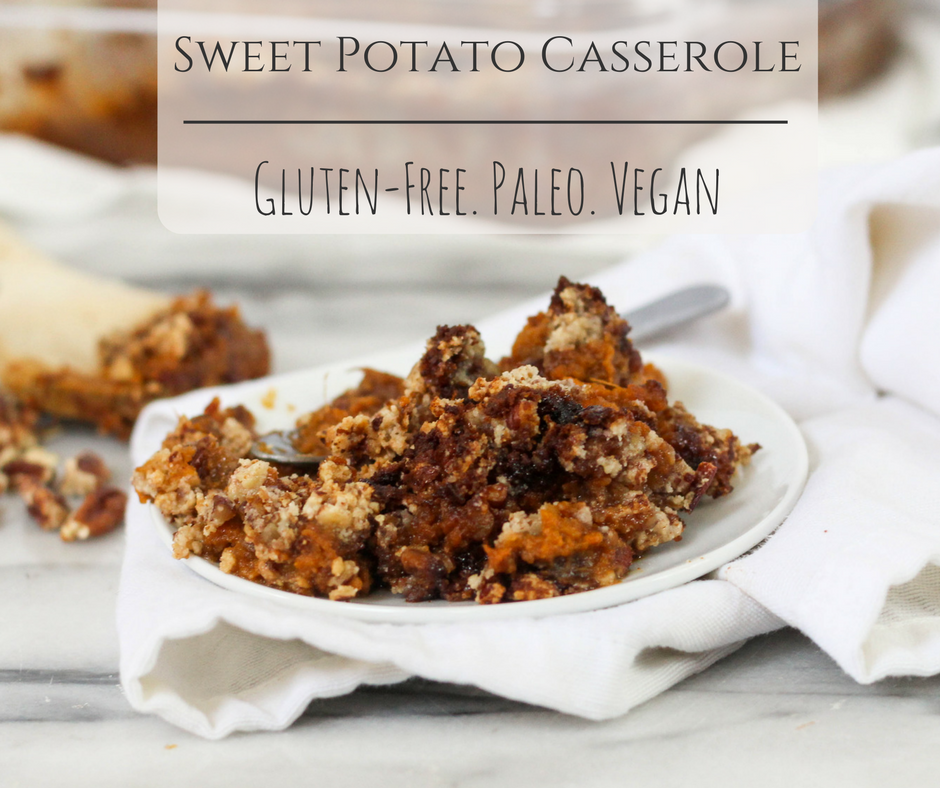 My husband has been craving sweet potato casserole; something we usually only make in the fall, particularly around Thanksgiving. Playing with a sweet potato casserole recipe took me back to the season of gratitude. How often has someone said in November, "Why can't we be thankful and live with gratitude all year long?"
This is our chance, we are completely on the other side of the calendar; this is the time to live grateful and given.
In this day and age, our culture screams out the importance of self. "Don't let anyone or anything stop you from getting what you deserve; not your family or your friends. Indulge in what feels good and you will be good." This couldn't be further from the truth.
It's not the preserving and building up of self, but the giving and sacrifice of self that can make a life well lived. I'm not suggesting a martyr existence or not taking care of yourself, but rather the worldview that drives your decisions. Family, friends and potential friendships; the relationships around you are important.
The most important things in life are most often of the things unseen; faith, love, relationships and memories. Investment in the unseen makes for a beautiful life.
So, make a sweet potato casserole and share it with someone.
The washing of an empty, dirty dish is sweet when it means good memories were made. And when November arrives we can say, with a sweetness in our hearts, "We lived grateful and given all year long."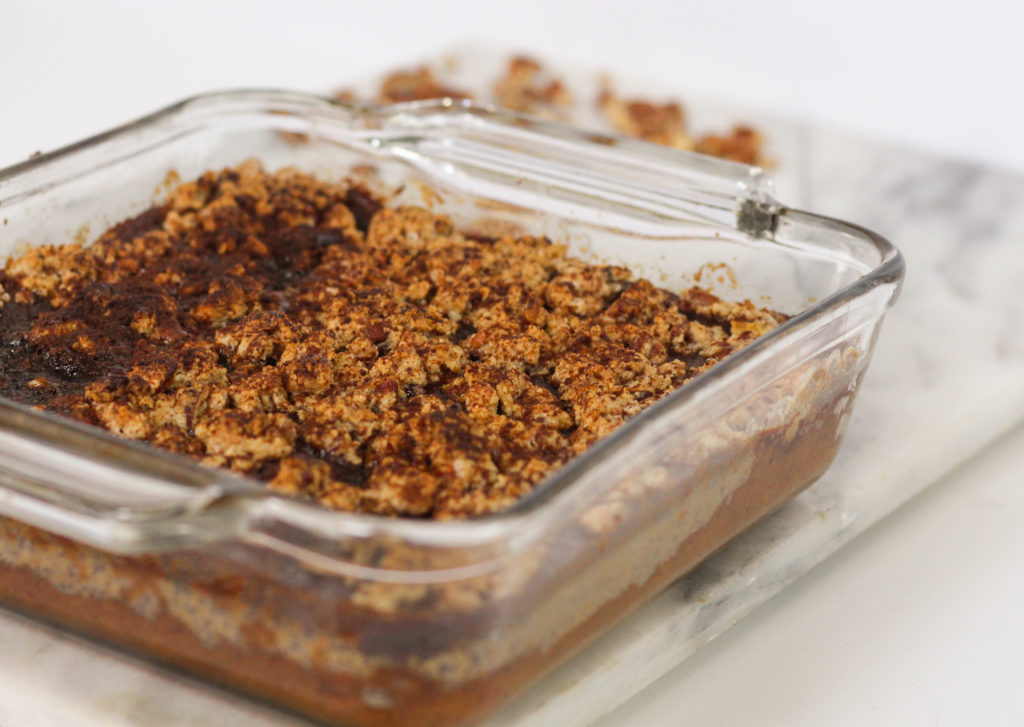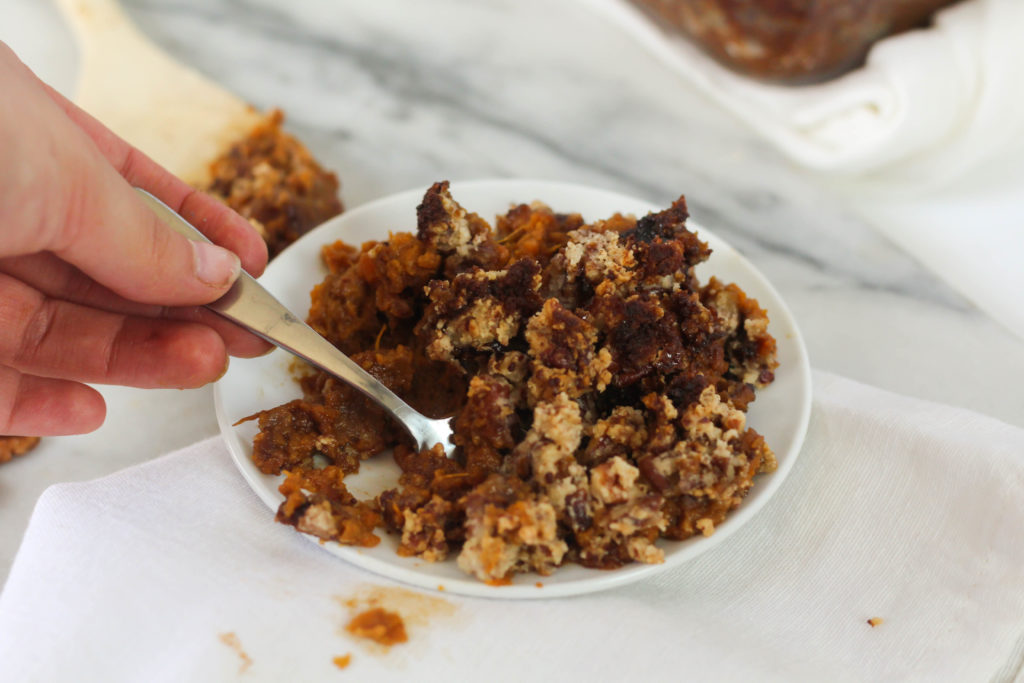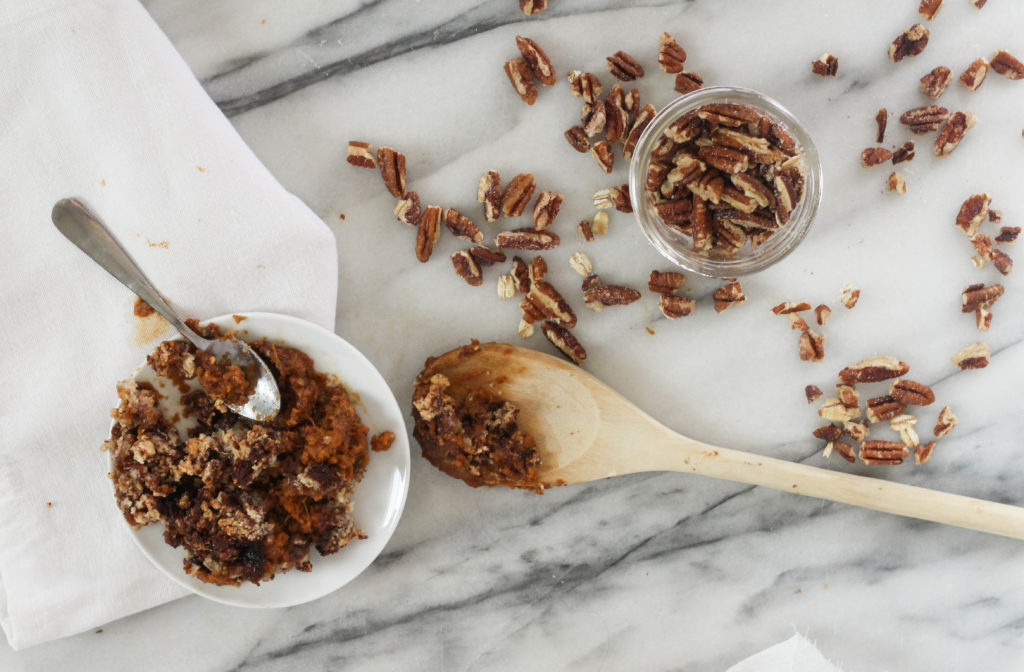 Sweet Potato Casserole
2017-04-25 02:33:46
Serves 6
Ingredients
1 Tbsp. Coconut Oil
For The Sweet Potatoes
4-5 sweet potatoes
1 cup coconut sugar
1/2 tsp. salt
1 tsp. vanilla
2 eggs, beaten
1/2 cup unsweetened almond milk
For The Topping
1/3 cup almond meal
1/3 cup arrowroot flour
1 cup chopped pecans
1/4 cup melted ghee or vegan butter
2 Tbsp. coconut sugar
Instructions
Preheat the oven to 400*
Grease an 8x8 baking dish with the coconut oil
Boil 4 cups of water
While the water is coming to a boil, wash, peel and cut the potatoes into quarters
When the water is boiling, put in the sweet potatoes for 25-30 min (until a fork can easily pierce the center)
Take the sweet potatoes out of the water and allow 3-5 min for them to cool
With an electric or hand mixer, beat the sweet potatoes until fully mashed
Mix in the coconut sugar, salt, vanilla, eggs and milk
Spoon the sweet potato mixture into the baking dish
In a medium bowl, mix together the topping ingredients (it should almost be dough like)
Spread the topping onto the sweet potato mix
Sprinkle with extra coconut sugar
Bake for 35 min
Let cool for 5 min
Enjoy!
Adapted from From My Mom's Recipe
Adapted from From My Mom's Recipe
Grace & Granola https://graceandgranola.com/